There's a big trend for unfiltered wine (and Wines Unfiltered 😉 ). Unfiltered wine can be referred to as natural, authentic, almost healthier. For wine lovers that are into health trends, unfiltered wines are definitely something they've been curious to try.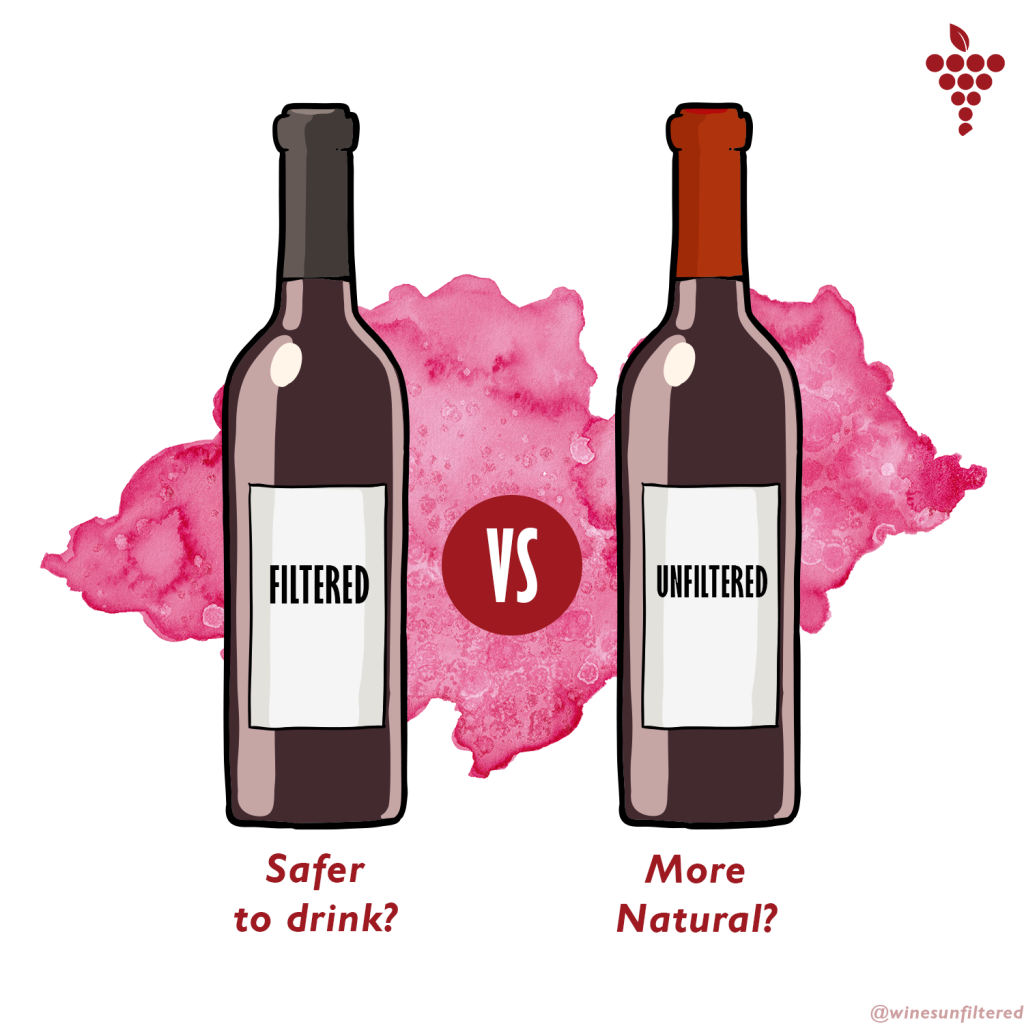 What is filtered and unfiltered?
Ok, so what is the difference between filtered and unfiltered wine? After they're finished fermenting, wines are full of floating yeast and sediment, called 'blind' – cloudy looking. So, then they're filtered, or purified, to remove the yeast particles before the wine is bottled. Typically, wines are filtered twice, once for the yeast and to clarify the wine, and the second to remove any further bacteria before bottling begins. Commonly sweet white wines, fruity floral wines and mass-produced wines are almost always filtered.
Whereas unfiltered wine, skips this step completely! Not to say that unfiltered wines are cloudy, as instead of being filtered they'll usually 'rest' for some time, so that the yeast particles can naturally settle with the use of gravity. Before it's racked with its lees. Racking is where the clear wine is siphoned off from the cloudy wine that sits at the bottom of the tank or barrel.
Most often unfiltered wines have the same clarity as filtered wines, so there's very little yeast particles to contribute to the taste or quality of the wine. Wines that are commonly found unfiltered are limited production red wines, oaked & aged white wines and some dry white wines.
Risky business
Unfiltered wines can be quite risky for wineries. As wines change as they get older, unfiltered wines are at risk of going bad as they don't go through the process of a second filtration. Meaning that any bacteria remaining increases the chance to the wine becoming spoiled. Bacteria can be eliminated in two ways. The first by filtering (filtered wine) and the wine loses its primary fruit flavours and freshness, but transforms into a nutty, creamy style wine. Or in the case of unfiltered wine, suppressing the bacteria's activity and stabilising it with a higher dosage of SO2 (sulphites).
If the question is which is better? There's no clear winner, both techniques are desirable depending on the winemaker's preference, experience and philosophy. Unfiltered wine however shows that the wine maker has a lot of confidence in the naked grape of their vineyards. Filtration or not, both styles come down to personal preference or opinion.
Have you tried any unfiltered wines?