With summer upon us, there's nothing more refreshing than enjoying a cold glass of wine – but what if you forgot to put your wine in the fridge? Here's some 'cool' alternatives for you…
It's a well known 'faux pas' that putting ice cubes in your wine will water down and dilute the flavours of the wine. Decanter's 'Confessions of a Sommerlier' found that putting ice cubes into white wine was a often 'the most annoying customer habit'
'My worst customer habit is when a guest asks for ice cubes to chill an expensive bottle of white Burgundy,' said Maria Wallèn, speaking when she was head sommelier at London's Coya.

Yet, there are several wineries who have released wines intended to be served with ice, including the Moet Ice Imperial Rose NC launched back in 2016 and Freixenet's Ice Rose.
In most Cyprus tavernas, it's becoming more common to be offered ice when served white or rose wines in the scorching summer months.
"We can all agree that there's nothing worse than a warm glass of rosé," says François Matton, owner and head winemaker of Château Minuty. Poolside pink wine tends to warm quickly outside in the summer sun, "so adding ice helps make the experience better — like with popular cocktails. This trend is becoming extremely popular across the French Riviera and Caribbean."
With wineries producing Ice Wines, is it such a sin to put ice cubes in wine?
Whilst adding ice affects the flavour and structure of the wine, when temperature control isn't always accessible and chilling isn't an option – one ice cube won't ruin your glass. According to Ellen Talbot, lead bartender of Fable Lounge, Nashville, who says a slight dilution is better than hot vapors ruining your olfactory system.
Alternatively, if you're stuck with a not-so-good-wine that's perhaps a bit unbalanced or harsh, a few cubes might just make it palatable!
However, Port wine with its higher alcohol concentration, is another good option to serve over ice — under certain conditions, says David Guimaraens, winemaker of Taylor Fladgate, Croft, and Fonseca. "It is not acceptable to put ice in vintage port. It is acceptable [however], and recommended, to put ice in port wines while having them as aperitifs … as [it] not only dilutes the 20 percent alcohol of a port wine, but also produces an elegant, stylish, and versatile drink to enjoy equally at home before an alfresco meal on a warm summer day, or on a cold winter evening in front of the fire."
Peter Richards MW said, 'My take is: do whatever you want with your wine as long as it makes you happy! That's what wine's for, after all. But, unless you're drinking super-fast, the ice will melt and dilute the wine and it won't taste as good.'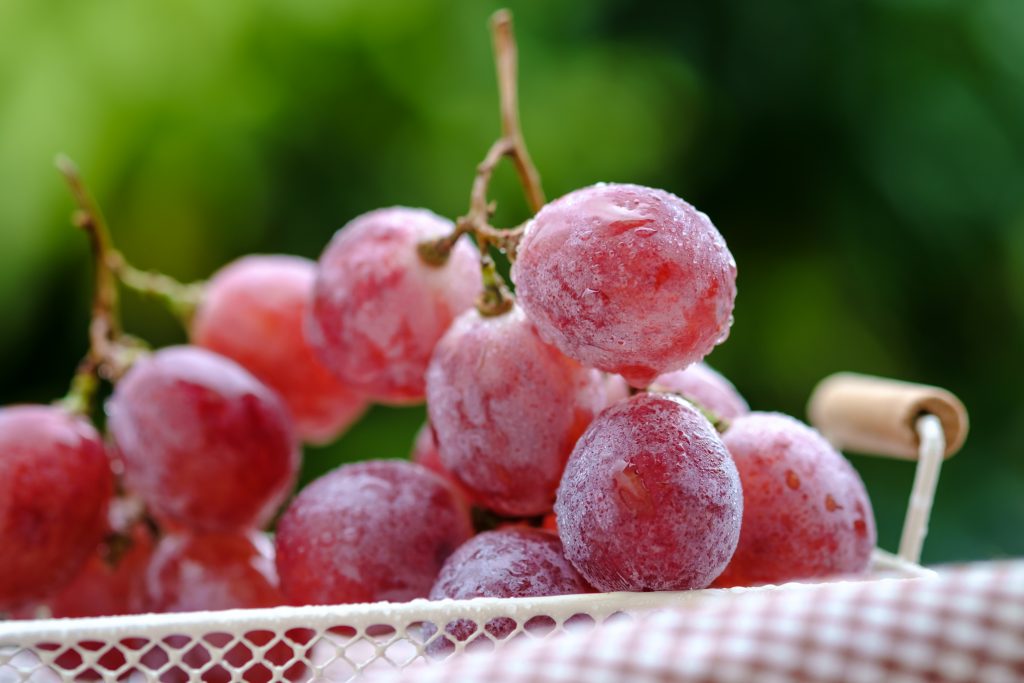 Alternative Solutions
A great alternative to ice cubes, is putting a few grapes in your freezer and then putting the frozen grapes in your glass of wine to chill your wine without diluting it!
If you're going to add ice to wine, to avoid as much dilution as possible, use hard aka very cold, fresh ice right from the freezer, not warmer ready to melt ice as this will give the wine more coolness with less dilution. Or try a whiskey 'ice cube' made from stone, stainless steel or plastic!
If you these are not options and your ice is ready to melt, take a couple of ice cubes and put them into a clean plastic sandwich bag, squeeze the air out and then drop that into your wine for up to 30 seconds or until cool, remove the bag and enjoy your wine.
There are many gagdets out there too to help you chill your wine in a hurry, such as the Corckcicle wine chiller which will cool your wine as it pours, or a cooler sleeve which can also be used as a cushion to chill decantered red wine, so there's no need to dilute it with ice.
If you're enjoying your wine at home and forgot to chill it in the fridge, you can place it in your freezer wrapped in a damp kitchen towel or cloth to help speed it up – just don't forget it's in there!
Don't forget you can also chill certain red wines specially in the Cyprus Summer to be enjoyed just as much as your favourite rose or white.