Whilst you can drink wine from almost any glass or drinkware that you wish – even a mug if needs must! However, there are certain wine glasses that are better for certain wines (and there is some science behind it all too) that can actually improve the taste too.
The importance of the right wine glass lays in the shape of the glass. In 2015, a Japanese medical group used a special camera to record images of ethanol vapours in different glasses. In their study, the research group showed how different glass shapes affected the density and position of vapours at the openings of different glasses. Why do vapours matter? Well, they carry aromatic compounds into your nose. Aromatic compounds are responsible for producing the vast majority of flavours in wine.
As you taste different wines more and more, you'll find that certain shapes are better for enjoying certain types of wines. Stemmed or stemless, it's the shape of the glass that is essential and ensuring that you have space in the glass to collect the aromas – so no filling to the top like in small 'village' style wine glasses.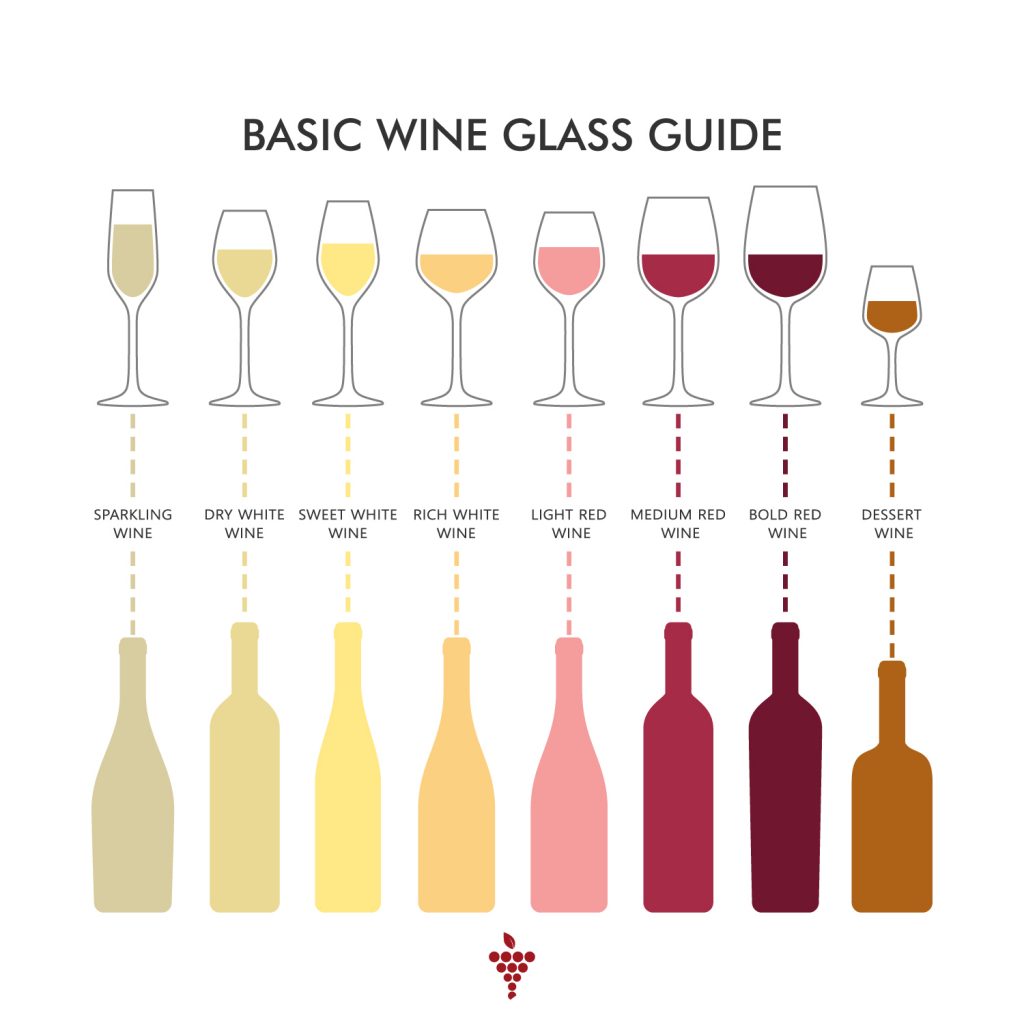 White wines are typically served in smaller bowled glasses to preserve their floral aromas, stay cooler, express more acidity and deliver more of their aromas due to the proximity to the nose. The exceptions being oaked Chardonnay, Viognier, White Rioja and Orange Wines that can benefit from a larger bowled glass. Originally introduced by Riedel and named the 'Montrachet' glass, they help to emphasize the creamier texture of these wines with a wider mouth.
When it comes to red wine glasses, the choice of glass has a lot to do with reducing the bitterness of the tannins and spicy flavours to help deliver a smoother wine tasting experience. Red wine glasses have a wider opening than those of white wines.
Bolder wines such as Cabernet Sauvignon, Cabernet Franc or Bordeaux Blends favour a deep and wide bowl-shaped glass to help deliver more aroma compounds and the larger surface area to allow the ethanol to evaporate.
The standard and more typical red wine glass shape is ideal for medium to full bodied red wines that have spicier nots and/ or higher alcohol %. The smaller opening allows the spice to be softened because of the flavours hitting your tongue more progressively. Zinfandel, Malbec and Shiraz are best enjoyed in this glass style.
The Bourgogne glass that features a much larger bowl than most glasses is preferred for more lighter and delicate red wines that have subtle aromas such as Pinot Noir, Gamay, Valpolicella and Nebbiolo as the large round bowl helps to collect all of their aromas.
There are an incredible number of glasses and shapes of glasses available on the market today, depending on your needs you'll find that most glasses can be used universally or interchangeably as storage space may be an issue unless you are a restaurateur that is!