You may already have your own favourite wine pairing for turkey but if you are looking for some extra advice here are some of my matches for you… 
It is easy to pair turkey when roasted and served on its own. You may say there is a straightforward partner. None of us, though, eats turkey solo. There is herb-filled stuffing, roasted veggies, rich sauces and an assortment of savoury sides that manage to make their way into the Christmas Dinner alongside the bird. Along with the stuffing, the sides and sauces must all be considered when deciding the best wine pairing with roast turkey. Also remember, turkey is not a powerful meat. It is a white lean meat with a low-fat content, which is why it can dry out if not cooked carefully.  
On the plate, there are many dishes vying for attention. Lots of different flavours and complexity – cranberry, bacon, parsnips, stuffing and brussels sprouts. Therefore, look for wine with medium or high acidity where they can match those flavours.
In the past, I would always get out the best claret or something similar for Christmas lunch, but getting wiser, I do not think it is the only one that works with turkey. In fact, I have discovered there are better propositions.  Dry, structured wines suit red fatty meat better. Let us not forget that butter carrots and cranberry sauce for example with sweetness, these have an effect on young clarets.    
Obviously, there are plenty of options for pairing wine with turkey. Generally, it's best to avoid young, tannic reds. Tannins are great in a balanced wine with bottle age, but the mouth-coating tannins of a young red will ruin hours of work in the kitchen. Comparatively with other dishes, there is not much fat on the plate to soften the tannins of a young, bold red. Meaning it will definitely accentuate the harsh feeling of tannins in the mouth and can also make tannins taste more bitter. Choose a claret but, with several years of bottle age.  A medium bodied red with relatively high acidity will be just perfect.
There are many options out there, you may choose the red fruit and acidity of a great Pinot Noir to the complexity of a top Chardonnay, or the limitless layers of aged Barolo.  Let us see our options…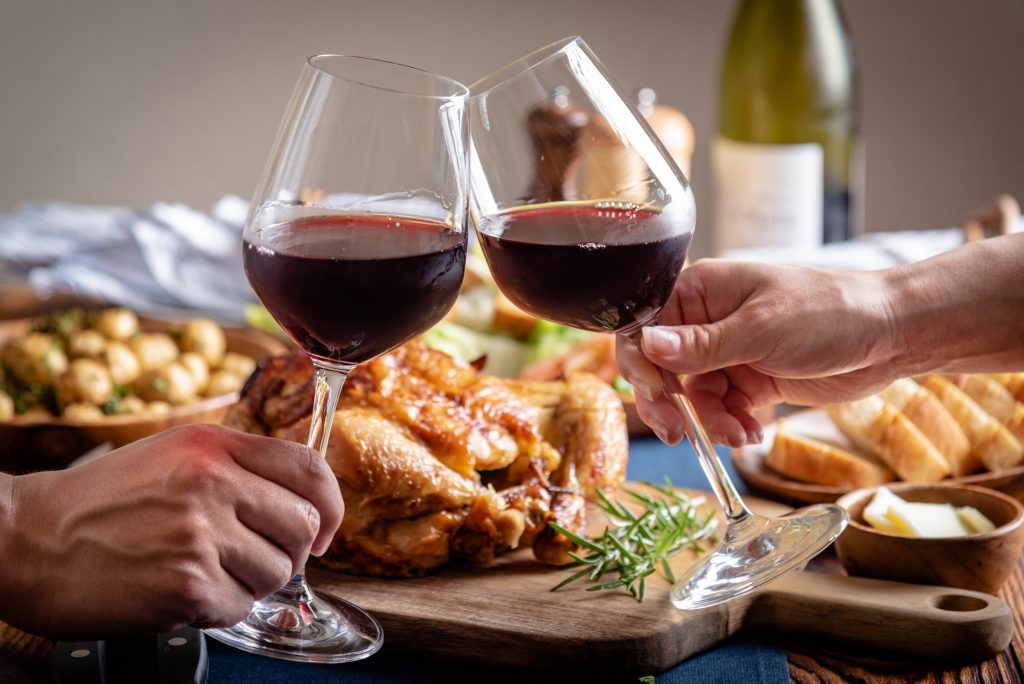 Red Wines
In the case of Pinot Noir try bolder crus from Burgundy such as Gevrey -Chambertin or Pommard, they should do well. You may also try the less pricey options like Fixin or Santenay. Outside Burgundy and France look for Pinot from New Zealand Marlborough or Central Otago, or from Chile's Casablanca Valley, South Africa' Hemel-en-Aarde Valley, and Sonoma's Russian River in California.
Morgon or Moulin-à-Vent are two of the ten Beaujolais Crus that have the power and depth to be partnered with turkey.  The Gamay grape is not always so lightweight.  I can make a similar comment about out Mavro grape as there are a few examples now in Cyprus that can make a dinner to remember.  From Greece a medium version of Agiorgitiko from Nemea with its forward fruit, medium acidity and tannins will be also another great combination. 
Think of a wine with a delicate balance of fruit, acidity and integrated tannins.  A wine that can work with some tertiary aromas developed from a few years of bottle ageing. Think no further than Bordeaux, especially specially from the right bank where Cabernet Sauvignon is on a different universe and Merlot carries its weight. Age is important, so choose at least a 10-year-old bottle minimum.  On this bolder end you can try also aged Barolo or Chianti Classico.  The bright red fruit along with the earthy mushroom aromas and medium-weight tannins of a mature Rioja, will combine equally well with turkey.     
There's a reason why Zinfandel has long been a Christmas staple in the States—it is because is one of the best wines with turkey. Jammy, juicy, and fruit forward, it pairs gorgeously with both light and dark meats, as well as an array of sides.
In this respect we can say the same thing about using aged Cyprus vinified Cabernet Sauvignon, Syrah and Merlot – at least 5-year-old.  The same applies for Maratheftiko and Yiannoudi too!
To take on all the trimmings and emerge victoriouly, I love to choose wines based on Grenache – lots of soft raspberry fruit and medium tannins.  Therefore I cannot think of anything better than a Châteauneuf-du-pape or a Gigondas from Southern Rhône in France.  Outside of France you may also try a GSM (Grenache Shiraz Mourvedre) blend from Australia. 

White Wines
Serenade your turkey with a full-bodied Chardonnay with oaky richness, sweet spice notes and that creamy lactic acid which will help you with meat that can sometimes be on the dry side.  The acidity as backbone helps balancing things. Chardonnay from Côte de Beaune in Burgundy will not disappoint you, and a Mâconnais with its riper fruit – that in particular is a great value choice.  The high levels of minerality will cleanse the palate and enjoy the trimmings. California is another area to look for bolder style Chardonnay, however, avoid the over-oaked ones. Try from Napa Valley or Sonoma and especially Russian River. South Africa, Greece, Australia, Chile, Argentina makes also excellent Chardonnay available in Cyprus, that has also a couple of good Chardonnay proposals. 
With local grapes I would try a couple of Xynisteri oak aged but Promara is the grape than can stand up to the turkey.  While Viognier might not be as popular of a variety as Chardonnay, it's certainly one of turkey's greatest matches. Fleshy and round, the wine's juicy stone fruit flavors and floral, honeyed undertones are ideal with tender turkey meat. Search for solid expressions from the Northern Rhone, and Australia.  Two vineyards in Cyprus can also contest the matching with roast turkey.   
Break the stereotypes and introduce your guests to Riesling this Christmas; one of the dinner table's most versatile wines! High in acid, abundant in minerality, and over delivering in versatility, I cannot think of a better wine to go with turkey stuffing.  Outside of Germany, try Austria and Alsace in France as well as Australia's Claire Valley.  
Finally, Sauvignon Blanc is one of the top white wine picks for turkey and its savory sides, as it tends to bring its own herbal tones to the table. Try Loire's Sancerre especially for the minerality, sleek, smooth, elegant wine that bursts with fruit that does not lose any of its bracing acidity.  Some fine example from Greece and Cyprus are also available, lightly oaked will be just great. There are a lot of interesting choices to make your Christmas turkey a heavenly meal.
BUT do not forget, a good sparkling to start the meal is essential as well as sweet wine for the pudding 😉 watch this space..