Gammon Ham
It is not just turkey for Christmas… Gammon ham is there too. It's a Christmas classic and the festive table just would not be complete without a ham. The key to a successful matching of our ham is in the glaze! We know for a fact that our ham will have a sweetness with it. Glaze recipes vary hugely but typically include some element of sweetness to counteract the saltiness of the meat. The smell of sugar or honey as it caramelizes on the slippery fat of roast gammon is a delight, but the fat slices of pink ham, served warm or cold, are unbeatable.
Different wines will be served for a cold ham that if you're serving as appetizer to a hot ham as part of the main meal. If gammon is served cold, even as a leftover on Boxing day and is combined with turkey, then go for a Beaujolais Cru, a fresh young Pinot Noir or a Mavro grape red from Cyprus.
But let's get back to the glazes, usually they have an orange or marmalade component. Because of this, they tend to work well with bright and fruity reds. Like a young Maratheftiko, Australian Shiraz (try Barossa or McLaren Vale or the Grenache-Syrah-Mourvèdre blend, the famous GSM blend. Of course that includes Côtes du Rhône. From Cyprus, try it with a medium to full body Merlot, Syrah, or even Yiannoudi and Maratheftiko. However, opt for something not too alcoholic or tannic, a ripe juicy fruit is what you need with the ham. On the same list we can add Chilean merlot or Carmenère.
If there is any degree of spices involved or if there is any mustard rubbed on the ham, we need to look out for reds that can cope with spicy food. Such as a Californian Zinfandel – the spice will excite the taste buds or a South African bold Pinotage is also ready for the task – especially if you are in the mood to grill your ham (and you should be), they can also handle smoky hams too.
For the lesser yet still sweet style coatings lets us introduce an Amarone Valpolicella from Veneto. My favourite, since usually we serve the gammon ham with turkey, is to enjoy Christmas lunch with an aged Châteauneuf-du-Pape, that will bring that necessary complexity to the feast. In the same respect the softer tannins and more complex flavours of an aged Barolo or Bordeaux will also do their magic here.
What about white wine? Tricky, it is harder than red, but a rich Semillon from Australia will do the trick especially if you are thinking of the baked ham and pineapple combination. Lightly oaked Chardonnays – both local and from abroad will – entice with their layers ranging from roasted pears to soft spices, dense tropical-fruit essence.
Also, a Viognier, a dry Chenin Blanc or a lovely refreshing Riesling (whom also loves a smoky ham) that has a spring elegance for orange glazed ham or a Gewürztraminer from Alsace for a honey butter ham. But try also with our new ladie: Vasilissa and Morokanella! The citrus flavours of these white grape varieties emphasize the juiciness of the ham.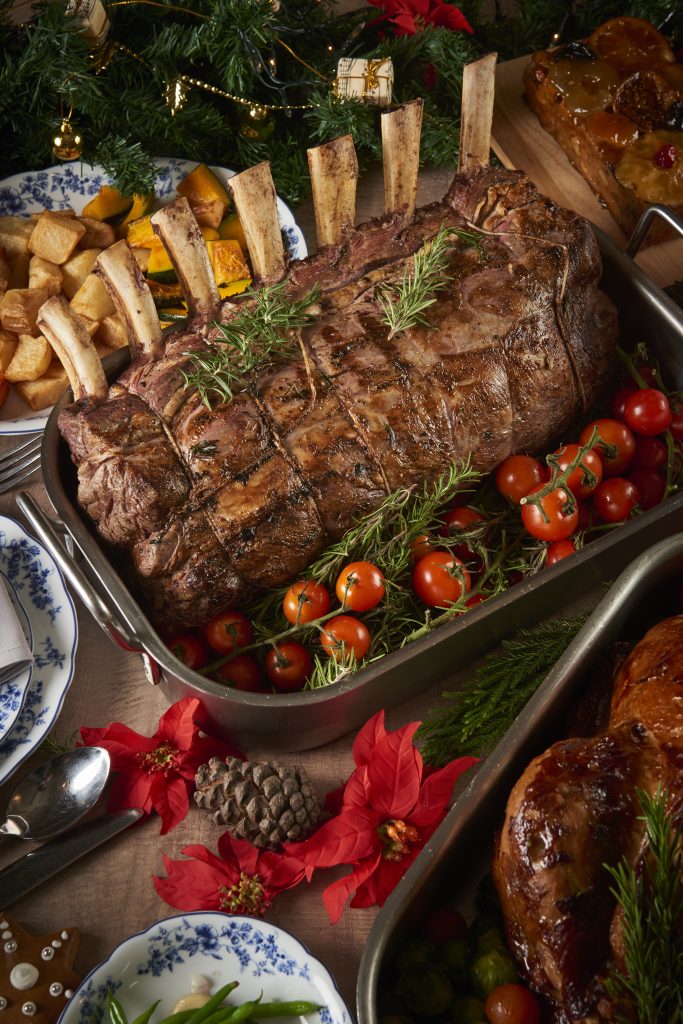 Beef
Having a rib of beef on the table is a heavenly delight for red wine. There are many cuts of beef that may influence your choice of wine. Cooking time and accompaniments are the other two factors. Overall, it is a fairly easy affair to match beef with wine.
Marbling of the meat is important! The leaner cuts – sirloin, fillet, silverside and topside, usually the richness in flavour that comes from marbling. However, they have a tender texture. The red of choice should be medium bodied reds. Too strong of a red wine will overpower the flavours, whereas red wines with strong acidity will cut through the texture of the meat. Who you will call for that? Red wines like Sangiovese or even our Maratheftiko and Yiannoudi; Cypriot reds have the acidity required for the task.