Continuing the Wine Women of Cyprus blog series and celebrating the women on the island with the lovely Maria Massoura, who is also a wine writer/ journalist rand wine specialist working for Vassos Eliades Ltd (a Cypriot company importing big names in the Wine market and supplying restaurants and shops).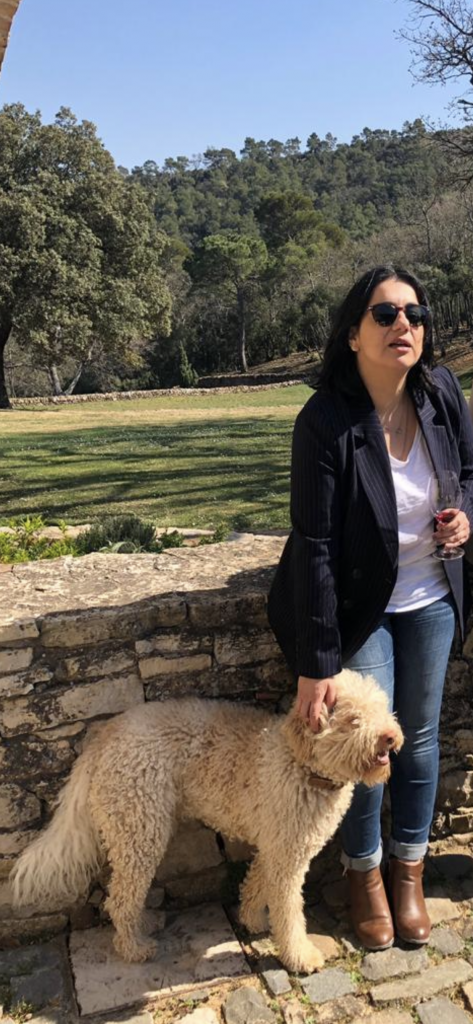 Q: How long have you been interested in wines?
Wine has been a part of a 14-year journey. I have been a travel, food, spirits, and wine writer since 2007 and in 2018 I took a break from journalism and started working in the wine trade as a wine specialist.
Q: Have you studied Wines/ Oenology? If so, where and when?
I do not have a university degree in wine-related studies as my bachelor's degree was in English Language and my Master's in Arts Management. However, I began my studies in WSET in October 2016. I took Levels 1 – 3 at the University of Nicosia where the classes were taught by members of WSPC, one of the leading WSET providers in Europe. Currently, I am studying for WSET Level 4, the mighty Diploma, at the WSPC centre in Athens.
I must admit that if I studied wine at a university level, I would study Oenology. I am fascinated by viticulture and vinification and by how and why things are happening. Maybe even more than aspiring to drink the "big guns".
Q: How did you get into the industry? What was your first wine related job?
As I have mentioned, I have been involved in the gastronomy scene writing about food, wine, spirits, and travel, since 2007. The culture of dining and therefore wine has always been a pivotal part of my job. I am one of the lucky ones, whose job is at the same time, part of their general lifestyle.
Q; Describe your current position/ job and where you are working?
I work as a wine specialist at Vassos Eliades Ltd, a Cypriot company that imports among others, wines, and distributes them around Cyprus in all channels from restaurants, bars, to wine shops and supermarkets. The portfolio currently consists of 15 wineries from Cyprus, Greece, France, and Italy. Some of the wineries we are working with are Zambartas Wineries in Cyprus, Nico Lazaridi Winery, Mitravelas, Papagiannakos and Vassaltis Vineyards in Greece, Famille Perrin, Miraval and Champagne Jacquart in France and Montelvini and Marrone in Italy. My job involves crafting proposals concerning wines to HoReCa customers, creating wine menus, doing staff trainings, organising wine tastings, masterclasses, and food and wine pairing events – I love food and wine pairing – and helping expand and enhance the company's wine portfolio
Q: What's been your biggest achievement to date?
Being able to talk about wine to people, either to wine lovers or professionals and managing to show them what a wonderful, not scary or snobby, world it is! Also digging deep into the wine world with endless hours of studying and wine tasting and keep learning, is something I am proud and happy that I am doing.
Q: What is it like to be a female in a male-dominated industry? It has been interesting! For example, there used to be the element of surprise especially in meetings.
It goes without saying that we need more women in wine from winemakers, sommeliers to wine writers and consultants. It's the same with the restaurant industry where we need more women chefs.
As for me, I have always been working in male-dominated industries, especially during the period where I was deeply involved in the bar scene writing about bars and spirits and serving as a judge in cocktail competitions. I never felt that I was not equal, and I must thank my family for my upbringing. But at the back of my mind, I always knew that I had to do a little more work, a little more studying.
I think the industry is changing, although very slowly, especially in small countries like Cyprus. In an ideal world and here I will a quote a friend, no industry should be dominated by gender.
Q: Who has been your biggest influence/inspiration in the industry (male or female)?
It's a cliché but Jancis Robinson. Apart from her great contribution to the wine world, I deeply admire how humble she seems to be from the way she writes, talks in interviews, to the way she tweets in her Twitter account. I would love to have a glass of Maratheftiko (or Promara) with her!
Q: Do you think women make wine differently, or make different wine from men? If so, how?
That's an interesting question. I need to drink more wines by female winemakers to be able to answer that! But you know, I believe that gender has nothing to do with knowing how to make a good wine or grow good quality grapes.  
Q: What would you say to any women interested in joining the wine industry?
Don't try to "man up", your femininity is a magnificent asset.