Few culinary combinations are as universally beloved as a perfectly cooked steak paired with a fine glass of wine. The rich, savory flavors of a well-prepared steak harmonize wonderfully with the diverse characteristics of wine, making it a classic pairing choice. In this article, we will explore the art of wine pairing with steak, uncovering the principles that guide these combinations and offering some expert tips to enhance your dining experience.
The Basics of Wine Pairing with Steak
Pairing wine with steak is all about achieving balance and synergy between the flavours, textures, and structures of both elements. Here are some key considerations:
Cut and Cooking Method:
The cut of steak and how it's prepared significantly influence the wine pairing. For example, a leaner cut like filet mignon will pair differently than a well-marbled ribeye. Grilled, pan-seared, or roasted steak also affects the wine choice.
Intensity of Flavor:
The intensity of the wine should complement the intensity of the steak. Robust, full-bodied red wines often work best with the strong flavours of steak, but lighter cuts may benefit from a lighter red or even a rich white wine.
Fat Content:
The fat in the steak can be balanced by wines with good acidity and tannins. The wine's acidity helps cut through the richness of the meat, while tannins can help cleanse the palate between bites.
Sauces and Seasonings:
Consider any sauces or seasonings used in your steak preparation. For instance, a peppercorn-crusted steak might pair well with a spicy Shiraz, while a Béarnaise sauce could harmonize with a buttery Chardonnay.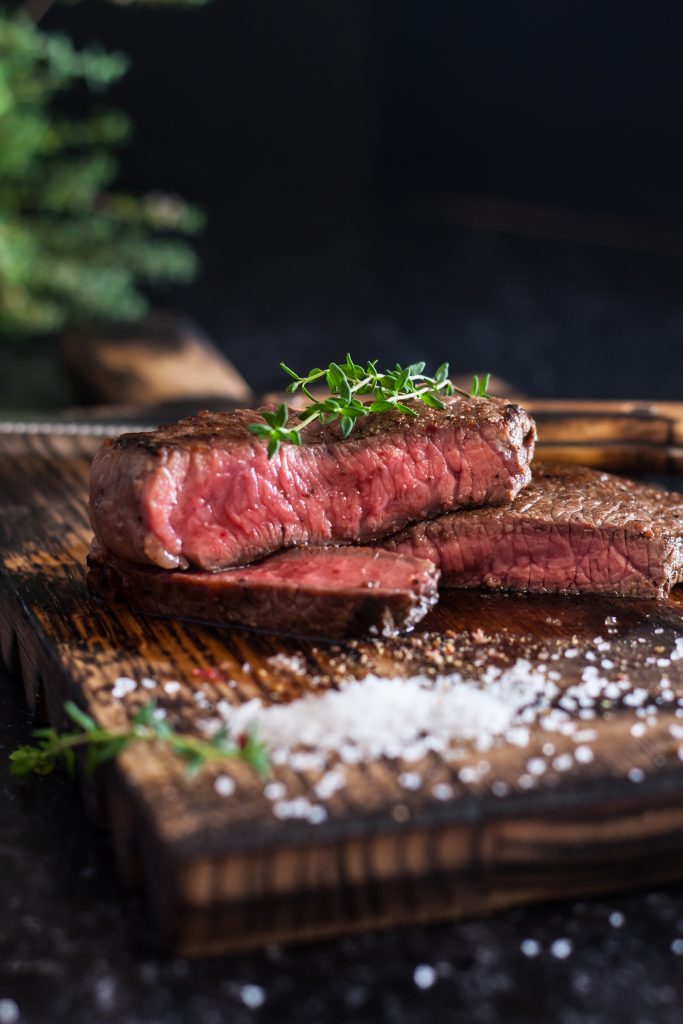 Classic Wine Pairings with Steak
Cabernet Sauvignon:
Cabernet Sauvignon is often hailed as the king of steak wines due to its bold flavors, ample tannins, and balanced acidity. It pairs splendidly with heartier cuts like ribeye, T-bone, or New York strip.
Malbec:
Malbec, with its ripe dark fruit flavours and soft tannins, is another excellent choice for steak, particularly when dealing with leaner cuts or meats prepared with spicy or smoky seasonings.
Merlot:
Merlot's velvety texture and red fruit notes can complement medium-rare steak, making it an appealing option for those who prefer a less intense wine.
Syrah/Shiraz:
Syrah (known as Shiraz in Australia) offers a perfect balance of fruitiness, spiciness, and tannins. It pairs well with grilled steaks and dishes featuring black pepper or barbecue sauce.
Bordeaux Blends:
Bordeaux wines, which often blend Cabernet Sauvignon, Merlot, and other varietals, are versatile options for various steak preparations. They provide complexity and structure to enhance the dining experience.
Tips for the Ultimate Steak and Wine Pairing
Experiment:
Don't be afraid to try different wine varietals with your steak. Experimentation is part of the fun of wine pairing, and you may discover unexpected favorites.
Consider the Sides:
Keep in mind the sides and accompaniments, as they can also impact your wine choice. Creamy mashed potatoes may pair differently than a vegetable medley or a peppery arugula salad.
Temperature Matters:
Serve your wine and steak at the appropriate temperatures. Red wine is typically best at slightly below room temperature (around 60-65°F or 15-18°C), while steak is best when hot and freshly cooked.
Pairing wine with steak is an art that can elevate your dining experience to new heights. By understanding the principles of balance, intensity, and flavour profiles, you can select the perfect wine to enhance the savory pleasures of a well-prepared steak. Whether you prefer a classic Cabernet Sauvignon with a juicy ribeye or a spicy Syrah with a grilled sirloin, the world of wine and steak pairings offers endless opportunities to indulge your palate and enjoy the delicious synergy between these two culinary delights. Cheers to a perfect match!