Last Thursday (5th May 2022) saw the finals of the 9th Competition for the Best Sommelier of Cyprus 2022, run and organised by Cyprus Sommeliers Association, at the Four Seasons Hotel in Limassol, Cyprus.
With the 3 finalists announced from the 7 semi-finalists who competed the day prior. Each finalist was put through a number of exercises, putting their incredible sommelier and hospitality skills to the test.
Each candidate was given the same tasks to complete and carry out such as serving Champagne correctly and efficiently, creating a Champagne cocktail requested by 'guests', serve and introduce a Cyprus grape variety, blind taste test 4 different Cyprus Xynisteris and detect from which PDO of Cyprus they were from, taste and decribe 5 almost identical amber coloured drinks blindly, correct a wine menu, offer Zivania pairings to a Cypriot Tazerna menu and suggest a white wine pairing for a specific steak dish. All on stage whilst infront of a live audience and judges (both on the stage and secret judges in the audience too – myself being one of them).
Over the course of an hour each finalist was put through the above tasks and marked throughout by approximately 20 judges collectively.
Once all 3 finalists were finished, the scores were added up and the tasks, with their 'hidden' tests and correct 'answers' were announced, before announcing the final results of the competition.
1st Place = Sotiris Neophytidis
2nd Place = Iwona Hereda
3rd Place = László Kovács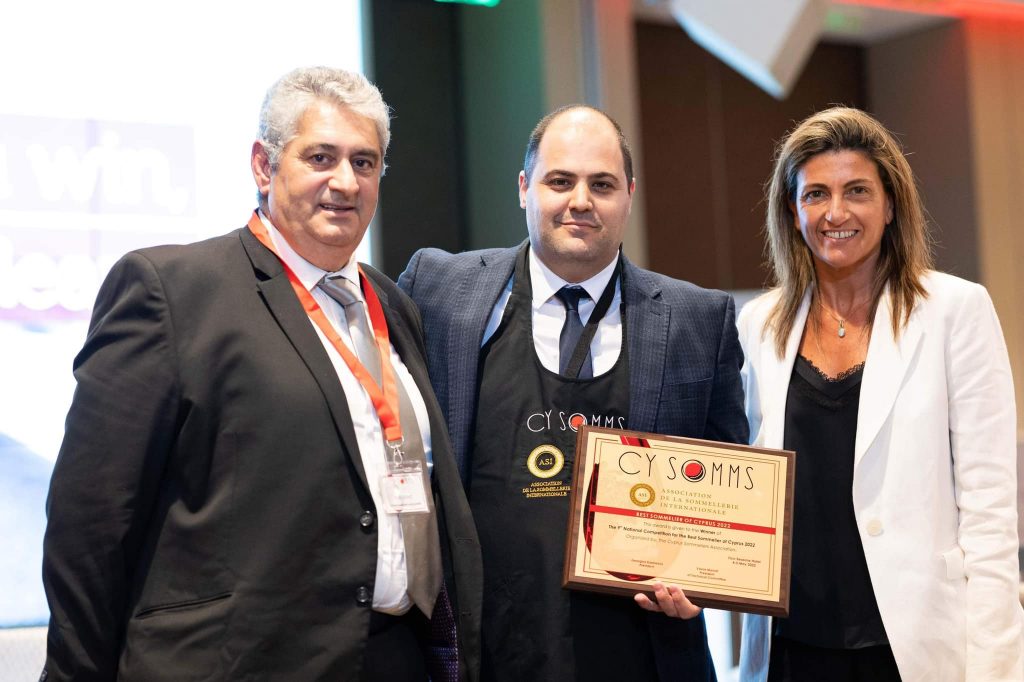 Best Sommelier of Cyprus 2022 Winner – Sotiris Neophytidis
Winner of the 9th Annual Competition and the Best Sommelier of Cyprus 2022 is Sotiris Nephytidis, 30, from Limassol, Cyprus.
Sotiris is currently working as a freelance Sommelier and as an educator.
"I have been working as a Sommelier since 2016. I entered the sommelerie industry when I won my first Best Young Sommelier Competition in 2016.
My background is solely based on hospitality.I have studied at Higher Hotel Institute of Cyprus Hospitality Management and have finished my studies on Bsc in Hospitality Management from Unic. Last but not least I have an Msc on International Hospitality Management from the Cyprus University of Technology.
What do you love most about the Cyprus Wine Industry?
"I love the diversity of the guests that I serve on a daily basis but as well I am really lucky to watch the growth of the quality of Cypriot wine in general."
Was this competition your first, if not what other competitions have you participated in?
"No this competition was not my first. My previous competitions were:
Best Young Sommelier 2016 Winner
Best Young Sommelier 2017 Winner
Cyprus National Sommelier Competition 2018: 3rd place
How long did you prepare for the competition?
"I have been preparing for this competition for a long time, I started approximately 6-7 months ago, but for years I am studying and preparing for these kind of tests.
What was the most nerve wracking part of the competition?
"The most nerve wracking part was the tasting part where we needed to define and describe wines from Xynisteri grape and describe the PDO's of Cyprus"
What was the best part of the overall experience?
"The best part was the announcement of the winner 🙂 Just kidding the overall tasks were really vital and of high level so I think everything was unique."
Is there anything you would have done differently if you could go back?
"There is nothing I would do differently, as I believe these 6 years were rewarding each and every year even if I did not win any competition."
How do you feel about representing Cyprus and competing in the World Championiship competition?
"I feel really proud that I will be representing my country in Paris on February 2023 for the world championships but at the same time I feel the pressure to get a good position."
"What is next for you as the Best Sommelier of Cyprus 2022?
"Nothing is going to change on my routine. Tasting, studying and practice. This is what I do and love."
Will you compete again?
"Yes, sure I will compete and represent my country another one time hopefully in international competitions."
Do you have any advice for any Sommeliers interested in competing next year?
"Believe in yourself. Study hard and be consistent. When you reach the top, at a moment, do not forget that being a sommelier is being humble and genuine."
Sponsors of the competition include: Four Seasons Hotel Limassol Cyprus, Photos Photiades Group, Kyperounda Winery, Pralina Experience, Pegasos, Aqua Panna & San Pellegrino
Photos by Cyprus Sommeliers Association